---
---
Founded in 2008, Victory Tailgate is one of the largest manufacturers of custom cornhole games in the United States. Victory Tailgate prides itself in its products having the highest standards of quality and durability, along with unlimited graphic design and customization capabilities. All Victory Tailgate cornhole boards and bags are 100% designed, manufactured, and shipped from our Orlando, Florida facility. Victory Tailgate is proud to be licensed partners with over 600 colleges, major professional sports leagues, and numerous iconic brands.
In an age in which environmental and social issues are so important, Victory Tailgate aims to embrace responsibility for our company's actions and encourage a positive impact through activities on the environment, consumers, employees and communities. We strongly believe that today's organizations must be increasingly mindful of the impact that their operations have and that the Corporate Responsibility Program must be a fundamental part of company's targeted practices, broad objectives and overall culture.
Quality Constructed Custom Cornhole Bag Toss Games
This is truly a "you get what you pay for" business and what you'll get from the cheaper guys is cheap materials, ugly nail and screw hole indentions, and a set that falls apart soon after you buy it. There is a reason why other dealers only show a few pictures of their product! We've purchased them ourselves to compare and, at our prices, there is no comparison. We know from experience and we are confident that we have a superior product.
You can also feel great that our game boards are constructed right here in the USA. There are quite a few dealers out there that advertise they use quality US craftsmanship. We have purchased boards from some of these dealers only to find that many of them are selling the exact same boards that are made and shipped from China that use press-board (MDF) and other cheap materials.
Lastly, if you are still shopping around, make sure the dealer you are looking at actually describes the materials and methods used to build and finish their boards. You should feel confident that dealers who do not explain their construction process probably have something they do not want to tell you. You can read what others have said about our products on our customer reviews page.
Why buy from us? Compare our standard features to any other dealer and find out for yourself! We offer the best value given the high quality of materials we use and the time and attention we give each and every set we build and finish! We are one of the few builders who are certified by the ACA for quality construction practices.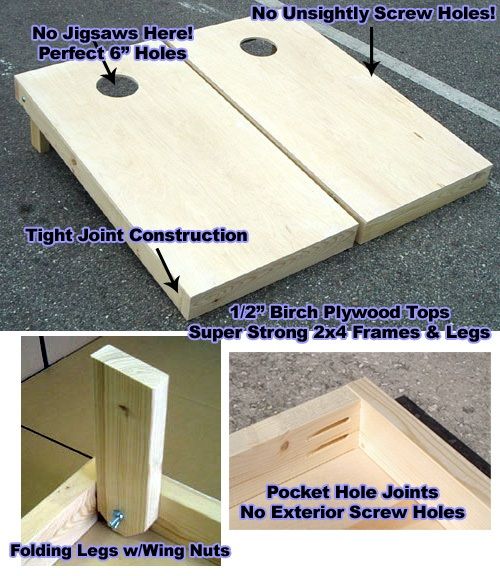 Standard Features
Quality 1/2" Plywood Tops - Smooth finish, excellent playability.

This is not like the plywood you buy at the local hardware store!
Standard plywood tends to warp, may have voids, knots, etc.

Top Choice Finish Grade 2x4s - Superior to the basic framing boards others use.
3 coats of high quality exterior primer. (for painted sets)
4 to 6 coats (depending on color) of high quality exterior paint. (for painted sets)
Finished with clear gloss sealant for protection.
Strong pocket hole joint construction.
Perfect 6" holes. No jigsaws here!
No visible screw holes or spackle on any painted surface.
Strong, foldable 2x4 leg construction with carriage bolts and wing nuts

Our legs won't snap in half when your friend or kids accidentally stand on our boards!
No tripping over our legs! Our legs do not fold back behind the board.

We paint the sides and legs and touch up our boards!

We touch up the joints, bleed, etc. to give our boards a quality finished look.

Complete cornhole bag set included in our price. 8 bags with 16 colors to choose from.
Any color is available.
Other dealers limit you to a handful of color choices.
We match any sports team, school, or any other color!
If you are still thinking about building your own, don't forget your time and tools needed to do the job right. There is no way to build one set cheaper than us using the same materials if you value your time. We build them in bulk so we can pass the savings on to you!
The Board Construction
Our boards are quality constructed using 1/2" cabinet grade plywood. Not the cheap stuff many other dealers use. 24"x 48" (2 feet by 4 feet) with the 6" hole centered 9 inches from the top and 12 inches from each side. The play surface is framed with sturdy 2x4 boards and folding legs for portability. The back measures 12" off the ground and the front measures 4" off the ground.
The Bags
Our standard bags are made of quality Duck Cloth canvas material measuring 6"x 6" and weighing between 15-16 ounces filled with whole corn kernels. This is the regulation that all serious cornhole players use. We also have all weather bags for those who need more wet weather protection. The difference is those bags use plastic beads inside instead of corn. They are regulation size. They still have excellent playability.
The Color Process
Our board sets come custom to match any color you desire. We can customize your boards so just let us know what you need!